Heat-exchange Thermal Insulation Jacket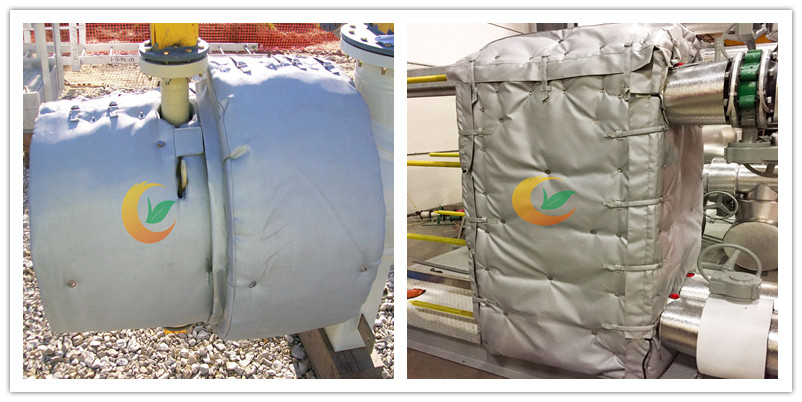 The Heat Insulation Jacket is custom designed to significantly reduce heat loss and surface temperature for valve, flange, pipe, injection & extrusion machine, dryer&fan, heat-exchange machine, exhaust system,curing press etc. Drum & tank heaters are used to heat all kinds of liquids such as water, chemical materials, honey, oil, glue etc. It can save energy by reducing heat loss. Except saving energy, it also can reduce room temperature to improve the surrounding work environment , protect operators.
Why Heat Insulation Jacket ?
>Keep heat/cold in and out, saving energy & costs, reduce heat loss by 20%-40%, increase energy efficiency
>Easy to remove and re-install, so can do equipment maintenance freely.
>Fire, freeze, high heat & personnel protection
>Surface temperature can be lowered to 40℃, is safe for touching by hands and operation
>Sound reduction
>No asbestos & pollution, waterproof, fireproof, oil resistant, anti-corrosion, easy to clean & bend, and nice looking
>Long life, more than 3 years.
>Custom designed and manufactured to fit the surface geometry of your applications.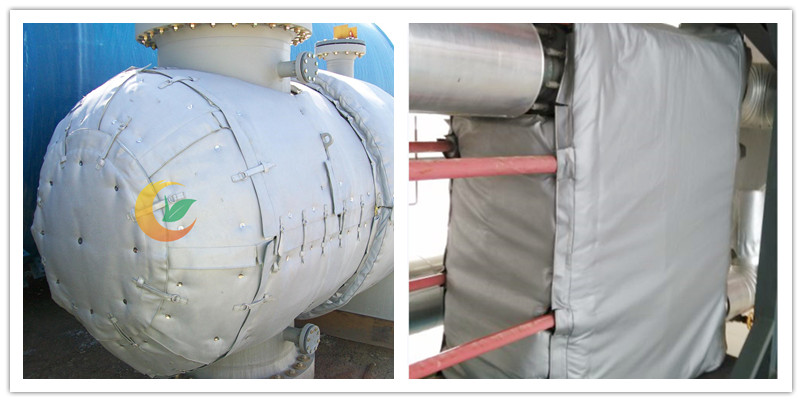 Details
Outer Layer:
Silicone Coated Fiberglass Fabric, PTFE Coated Fiberglass Fabric or other.
Insulation Layer:
Glass fiber, Ceramic fiber or other.
Inner Layer:
Knitted Stainless Steel Wire Mesh, Alloy/ Aluminum Foil, Silicone Coated Fiberglass Fabric,PTFE Coated Fiberglass Fabric or other
Accessories:
Velcro, grommets, anchor pins, loops, zippers are all available in different styles and shapes, for easy installation and fitting tight purpose.
Specification

Color

grey, silver or other color

Thermal conductivity

0.025 W/M•K- 0.045 W/M•K±0.005

Temperature Range

-198℃-1300℃. Different material can have different temperature resistance

Moisture absorption rate

<5%

Fire Rating/ Inflaming retarding

non flammable (Fireproof A class, GB8624-2006, German standard DIN4102, A1 class)

Density

110-220Kg/m3

Thickness

25-150mm (Normally 25-30mm)

Application

Any industrial applications need to insulate heat
---
Previous: none!
Next: none!
---